Buckwheat-t
A hug in a mug, a sip for your soul. Buckwheat tea, made out of roasted buckwheat kernels, is the perfect brew after a long day at work, an indulgent meal, or as a little reset in the middle of a busy day.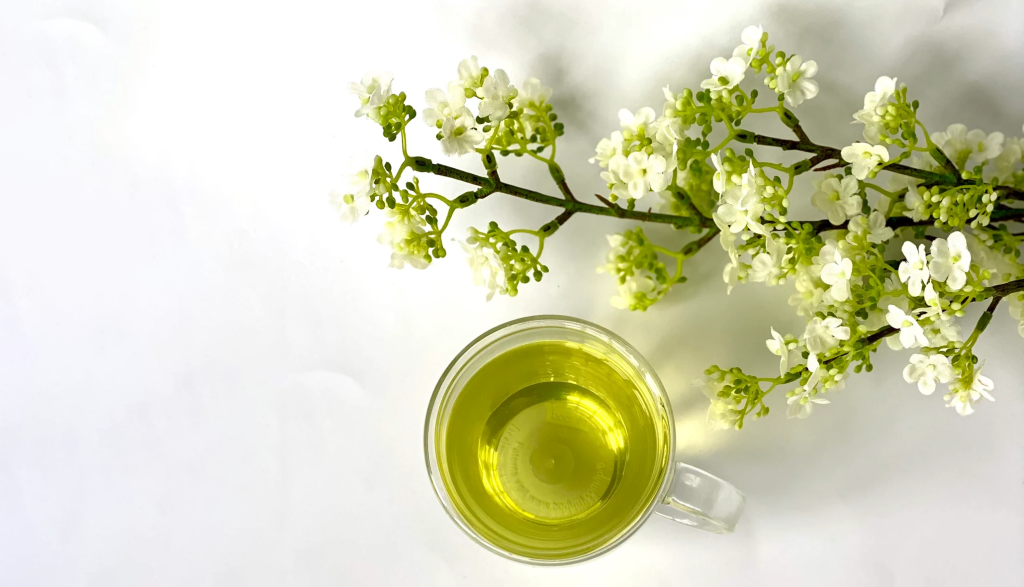 Hi, I'm Lovina! I'm a London-based mum of 2 – I grew up in Kobe, Japan, and am originally from India – being from the nations of matcha and chai, I have always loved my tea.
I grew up drinking buckwheat tea regularly in Japan, where it's known as "soba-cha" (like 'soba' noodles, which are made out of buckwheat too).
It's a tea that's widely consumed in a few countries in Asia, where it's well known for its many health benefits and rich and pure taste, and exceptionally for its high content of the special antioxidant 'rutin.'
When I moved to London in 2005, I noticed that a lot of teas were available wherever I went… but buckwheat tea was unknown to most.
And so, I got accustomed to drinking other herbal teas.. but I still missed it quite a lot! Not only did I miss its soothing and familiar taste, but I could never find an equivalent tea that ticked all the boxes… Green tea has similar health benefits, but it contains caffeine and can get bitter. Fruity teas smell great, but never taste amazing. And I love mint tea, but get tired of drinking it all the time.
I missed soba-cha because it's one tea that I never get tired of and can just have all day, and genuinely enjoy it as a source of hydration and comfort.
About two years ago, over one of the lockdowns, I was sharing a pot of buckwheat tea with my husband at home… we ended up discussing how delicious this tea is (sorry yes, we are that couple), and how it should become a staple here in the UK –  that's when I had the idea of launching my own brand! The Ham & High call this moment a 'tipsy culinary experiment' if you want to read more about it. 🙈
In this process, I sampled over 20 different variants of buckwheat tea, before finding the perfect match to what I was accustomed to drinking (there are many different types and so I had to be prudent!).
Fast forward to now, and T. Buckwheat Tea is a reality! The tea has won a Great Taste award, it's stocked across stores in London, and is something that many of you are learning about and loving too 🙂
Since buckwheat is a popular health food already here in the UK, and we are a nation of tea lovers, I think it only makes sense to introduce all of you to this wonderful and powerful tea – I can't wait for you to try it.
– Lovina
PS. You can follow my journey and learn more about buckwheat tea on my Instagram page.
How is buckwheat tea served traditionally?
In countries like Japan, China, and Korea, buckwheat tea is traditionally served hot, and on its on. Interestingly, it's usually served in a teapot. The recommended temperature for brewing it is 95 – 100°C.
In the spring and summer months, you'll find that cold buckwheat tea also becomes popular. In fact, in some restaurants in Japan, buckwheat tea is served as a substitute for water.
In Japan in particular, it is very typical to find soba-cha served in soba restaurants, where they prepare their own buckwheat noodles and serve them to you with the tea.
When is it best to drink buckwheat tea?
Since buckwheat tea has no caffeine in it, you can pretty much drink it at any time of the day.
It's nice to have in particular after a meal – an afternoon cup of buckwheat tea goes down perfectly after lunch, as it helps with digestion, and is also quite calming (this is quite a contrast to drinking an afternoon coffee, which tends to give you a short-term energy boost and typically results in an afternoon slump..!)
It's also perfect after dinner, or just before bedtime. It can be a nice part of a calming night time routine, and it anecdotally helps with a more restful sleep (the magnesium found in the tea relaxes your blood vessels, so this could be one of the reasons why).
Finally, buckwheat tea can also be paired with a dessert, as a digestif. Or it can be a replacement for having a dessert, if you're trying to cut back on sweets! It blends well with brown sugar.
How long should I brew buckwheat tea for?
I recommend brewing buckwheat tea for approximately 5 minutes, for a good depth of flavour. However, you can play around with this (+/- 2-3 min) to suit your preference.
You can even leave the tea bag inside the cup or teapot, and you'll notice that the flavour keeps developing.
Whatever the brew time, you won't have to worry about this type of buckwheat tea getting any bitterness you may notice with green tea or other variations of buckwheat tea – as mentioned, some people just leave the teabag in while they sip on their tea!
How much buckwheat tea should I use?
Each teabag contains 5 grams of buckwheat tea, which is quite a lot! You can use one teabag for up to 2-3 cups of tea – either in a small teapot, the traditional way, or directly in your teacup (just make sure you preserve the teabag* to use again later).
*Keep it covered if you plan to use it again within a few hours – otherwise save it in an airtight container in the fridge, where it will last for up to 2 days.
How do I make cold buckwheat tea?
Cold buckwheat tea is delicious – it's refreshing and thirst-quenching, almost like a nutty and sweet-flavoured water.
To make cold buckwheat tea, simply brew it as usual with hot water and let it cool down before storing it in the fridge for 2 -3 days.
Or if you want it right away, pour some freshly-brewed buckwheat tea over ice.
The flavour tends to deepen in the fridge, so you don't have to make it as strong as you would when serving it hot (you can use around 2 teabags for a 1-litre jug).
In fact, if you have some leftover buckwheat tea, you can pour it into a jug and top it up with some water to store in the fridge!
Buckwheat tea for children
Not only does the caffeine-free nature of buckwheat tea make it suitable for children, its sweet aftertaste is something that most kids love!
You can give kids cold buckwheat tea, as an alternative to water – for aded hydration that's full of goodness.
Or you can give it to them warm, after brewing it and letting it cool down a bit.
Variations on traditional buckwheat tea
Buckwheat Latte
More recently, Japanese and other Asian teas are being 'modernised' and served as lattes, with various types of milks, flavours, sweeteners, etc. It's very exciting to be able to blend the tea with different things and explore different tastes.
For example, buckwheat tea with milk is delicious. The milk adds a creamy flavour to the tea, and makes it more filling. Plant-based milks, such as hazelnut or almond, work quite well due to the combined nutty notes.
With regards to sweetening buckwheat tea – the tea has a naturally-sweet aftertaste served by itself, but you can add in some sugar or honey if you prefer your tea sweeter.
Finally, you can also be creative and infuse buckwheat tea – for example add some fruit into cold buckwheat tea, or fresh ginger to a pot of hot buckwheat tea, for a variation to the standard taste.
Refund Policy
We have a 30-day return policy, which means you have 30 days after receiving your item to request a return.
To be eligible for a return, your item must be in the same condition that you received it, unopened, and in its original packaging. You'll also need the receipt or proof of purchase.
To start a return, you can contact us at buckwheat.t.uk@gmail.com. If your return is accepted, we'll send you instructions on how and where to send your package.
You can always contact us for any return question at buckwheat.t.uk@gmail.com.
Damages and issues
Please inspect your order upon reception and contact us immediately if the item is defective, damaged or if you receive the wrong item, so that we can evaluate the issue and make it right.
Refunds
We will notify you once we've received and inspected your return, and let you know if the refund was approved or not. If approved, you'll be automatically refunded on your original payment method. Please remember it can take some time for your bank or credit card company to process and post the refund too.
Join our
zen

sational community
Keep up to date and informed on new products and brands, special offers,  events, informative opinions and Zentual Life insights.